Social Justice
Our Imperative for?Social and Environmental Justice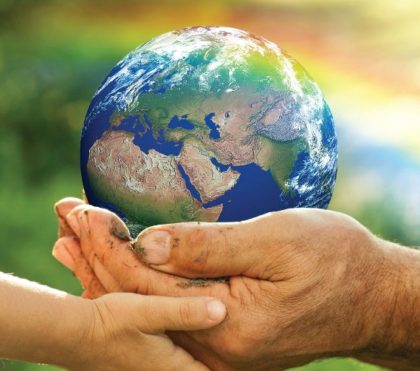 As Unitarian Universalists, we covenant to work for a democratic, peaceful, equitable and earth-friendly world. Justice is the "public form of love."? Our mission calls us to "stand on the side of love" on even the most controversial issues like immigration, same-sex marriage, dealing with the poor and minorities, and promoting peace.
Our Mission calls on our congregation to support "a sustainable global society founded on respect for nature, universal human rights, economic justice, and a culture of peace."
Unitarian Universalists have a long history of social justice activity stemming from the earliest days of Unitarianism and Universalism. We feel a responsibility as a religious community to stand up for people who are oppressed, to speak out for equality, and to safeguard the Earth. It is impossible to separate our faith from our work for social justice. That is why our congregation recently added a "Faith in Action Officer" as a member of our governing board – to make sure we fulfill our mission towards social and environmental justice.
The imperative for Social Justice stems directly from three of the Six Sources of our faith:
Words and deeds of prophetic women and men which challenge us to confront powers and structures of evil with justice, compassion, and the transforming power of love;
Wisdom from the world's religions which inspires us in our ethical and spiritual life;
Jewish and Christian teachings which call us to respond to God's love by loving our neighbors as ourselves.
The "Golden Rule"?– a precept found in most of the world's religions – teaches us that we cannot live for ourselves alone, but must love our neighbor as ourselves.
Our Seven Principles speak directly to the obligation to care for our neighbor… as Jesus taught, to be like the Good Samaritan who had compassion for the suffering regardless of their race, creed, color, or social status. Four of our Seven Principles speak directly to this imperative for ethical living:
We affirm and promote:
The inherent worth and dignity of every person;
Justice, equity and compassion in human relations;
The goal of world community with peace, liberty and justice for all;
Respect for the interdependent web of all existence of which we are a part.
Social Justice and Environmental Action
We are called to take action on a variety of issues pertaining to social justice including civil liberties, economic justice, health, hunger, peace, energy, and the environment.
Our congregation is most active in the areas of environmental justice and ethical eating. We are a certified Green Sanctuary, responding to the call to heal the Earth, combat global warming, and live more sustainable lives. Our national Association just adopted a Statement of Conscience on Ethical Eating which our congregation will be working on in the coming year.? To implement these actions, we have a Green Sanctuary Committee (PDF) and a Social Justice Committee.
Our congregation is an active member of the?UU Justice Ministry of California,?which works to support UUs and congregations engaging in immigrant justice, environmental justice, economic justice and equality work.
Our main focus in social and environmental justice is on addressing the root causes of societal problems, rather than just treating the symptoms.
Some of the local efforts we support or have members active in are:
Recycle Your Used Printer Cartridges Here
Next time you have an empty inkjet printer cartridge, don't throw it away. Just put it in a plastic bag or the original cartridge box and bring it to a Visalia UU Fellowship meeting. We will recycle it, and our Fellowship will receive up to $4 for each cartridge with a print head. (Sorry, Epson printer cartridges without print heads don't qualify.) Save energy! Reduce Pollution!